Sweltering days of summer cook us in the morning and we get steamed at night! What a life!!! I do enjoy the late afternoon rains, but I'm not so sure about the tornadoes that keep twisting down all over the place.

As I look at the sky again tonight, I see storm clouds on the horizon, and I wonder what the night holds. Maybe, I'll get some typing done on another book, or maybe just an article or two, but they may be punctuated by lightening and thunder. I may be inspired by the flashes and noise, or I could be running for cover from the next great book that might cross my desk (however, literally that may be) by way of tornadoes ripping through my home.

So, tell me, where does your inspiration come from?
The purpose of an ezine is not so much, to just share my writing as it is to inspire those who are reading it. I want to know what you all want from the ezine, and I hope I do inspire you in some way. I know I personally have several writing projects on the back burner, some of them active, a few less interesting at the moment, and some actually burning holes in my keyboard as I attempt to finish them up.

What do you have in progress, and what would it take to finish writing?

Is there something special you want to write and haven't had the motivation to step out and write it?

What purpose or cause do you claim for yours?

Just a few ideas to get you burning!

Jan



$2.50

Please add $2.00 shipping and handling to total order.

Reader Specials

Poetry Bundles available on pages worthy of framing.

Bundles of five printed poems ready for framing, various sizes, printed on display quality paper using various fonts with special lettering. Autograph of the writer included!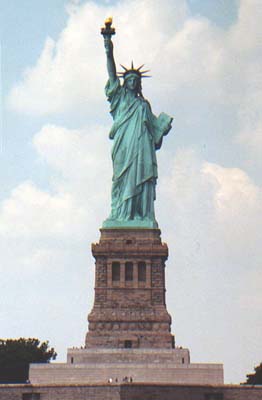 "Our brightest blazes of gladness are commonly kindled by unexpected sparks."

~Samuel Johnson~
Whenever I see this lady, I think of freedom. I think of the uncommon freedom that we each have, every day, to think, to be, to roam, to talk, to live, in a nation where we have freedom of speech and the opportunity to become what we want to become. I wonder how many of us realize as we step through each day, the number of lives that were given for that freedom? I wonder if we ever think about or appreciate those who have fought for the freedom we now take for granted?

It's become a national passtime to put down the very freedom that our fathers, grandfathers, uncles, and many others have fought to provide us. And as we put down that freedom, or by chance toss it away, or even on a whim vote it away, by voting into existence one more law that stops us from speaking our voice - we must realize that we are walking on graves and stealing the light from headstones.

Whose grave did you step on today, when you chose not to stand up for freedom? Whose hands did you nail to the cross, when you chose to let someone put down the God in whom we trust?

Just wondering past...

Jan